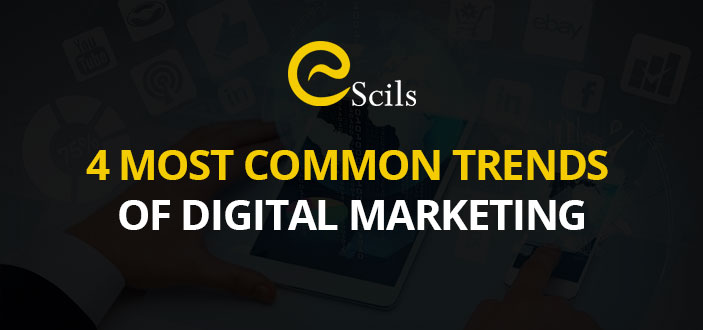 Technology is evolving itself with the innovation which has a direct impact on people's life. Customers' preferences are also modifying with the passage of time. To be more competitive in a digital ground, you must need to understand such changes in consumers' behavior and observe the existing and upcoming trends so that you can easily design marketing strategy according to it.

If you are a digital marketer or want to make a career on this professional then this article will help you to take a better decision in the right direction. Following are the top and most common trends which are being observed by industry experts.
1) Search Via Voice
As we know mobile devices have become an essential part of daily life. With the enhancement and innovation in cell phones technology, people are leaving the traditional ways of searching for the required information. Google stated that around 20 percent of the searches were from voice search from last five years and these stats are expected to be the highest by 2020. Furthermore, it is expected to be the 50% increase in voice search. It may sound exaggerated, but remember that in mind and include voice interface in marketing plan while you're not too late!
Many users like to have voice-enabled devices that support them to search for a query. It is considered a challenge for marketers to improve content management and make content as per the most voice search. Current situation and digital marketing strategy need to be more improved. Currently, marketers are just including short keywords hence voice interaction should be added in a digital marketing strategy. For doing this, you can add long tail keywords which should be optimized for voice search as well.
2) Visual Interaction through Videos
In 2018, web-based content was less than video content. Although traditional text content has its own values but, in various ways, people like to approach video-based content. To make it more specific, the year 2018 indicated that young people like to access video content as they think its more easy and convenient. Here is the key point which should be noted, video-based content should be made professionally and as per the target audience. A short documentary, editing skills with modern effects and color selection matter a lot in video-based content.
Moreover, we would like to add to your knowledge, big companies use live videos to communicate with their employees. Even
social media
start promoting LIVE streaming. Such a change in technological trends should be into the knowledge of digital marketer.
3) Artificial Intelligence
Previously, artificial intelligence was known as the future technology but now it is frequently used to enhance proficiencies. We noticed the immense boost during the previous year via the Internet of Things, Machine Learning, and big data management and automation in operations which have decreased the human involvement in the entire work frame. So, you need to beware of this trend.
In the year 2018, companies collected information such as browsing patterns, website usage, content preferences and search history in order to make a database of client outlines. It is predicted that PCs will analyze these client profiles, start to mark conclusions and conduct marketing campaigns across different channels, based on them.
4) Increase in Mobile Marketing

For a digital marketer, it is necessary to focus on mobile marketing as the influence of mobile marketing is increase with the passage of time. In the year 2018, the immense increase in mobile marketing is observed that is an open indicator for marketing strategist. Small negligence may have a bad impact on users' experience and their loyalty. Mobile marketers and developers should not emphasis only on the big mobile brands. Mobile user experience needs to be smooth and faster on various devices, because you never know who might be interested in your offered products and services.